Hosting an Apprentice or Trainee
BUILD WORKFORCE CAPACITY & CAPABILITY WITHIN YOUR TEAM!
Hosting an apprentice through DGT Employment and Training is an investment in the future of your business.
It is a cost-effective way to reduce risk, build capacity and capability and grow your own workforce. You'll be supported by the DGT team who are experts in recruiting, training and managing apprentices and trainees so that you can focus on running your business.
DGT employs the best apprentices and trainees and places them with businesses, who are the host employers, for all or part of the apprenticeship and/or traineeship.
Often known as "Group Training", DGT is the legal employer, manages all the paperwork and organises all the training. Hosts are responsible for day-to-day supervision and passing on skills and experience to the apprentice or trainee through on-the-job training.
Apprenticeships and traineeships include carpentry, plumbing, tiling, automotive, engineering, civil construction, business, health and hospitality to name a few.
For more than 30 years, DGT has partnered with over 7000 host businesses to employ and support over 12,000 apprentices and trainees.
As a DGT host employer partner, we'll save you significant time, money and resources, allowing you to focus on your core business and reduce your risk.
We also have a range of Host Employer Partner Rewards to make it even easier.
Why host an apprentice or trainee?
DGT makes it easy and cost effective to host an apprentice or trainee.
DGT handles, payroll and more,
People are trained in your business, your way
DGT will support you to attract and retain high quality staff
Apprentices and trainees can be full time, part time or school based and start at any time of the year
The training program will be individualised and customised to your business needs.
BENEFITS:
Less Risk:
DGT is the legal employer and responsible for all employment, payroll and training related obligations including PPE, tools and training management.
As a host employer, you are responsible for day-to-day supervision and safety.
Rotation of apprentices in and out of the business depending on work volume.
Apprentices and trainees can be employed in any occupation or industry.
Our recruitment experts handle the screening and selection to make sure you get the best candidates.
DGT manages the training and ensures your apprentice or trainee receives the highest quality training.
How does it work?
DGT's Apprentice and Trainee Employment and Hosting service means you don't have to spend time and money doing the paperwork and managing the non-workplace aspects of apprenticeships and traineeships.

We deliver more than $10,000 of value per apprentice or trainee to our host employers. Find out more below:
Recruitment
The best apprentices and trainees
VALUE: $3000
Apprentice Placement Guarantee
Advertising, screening and interviewing
Attitude testing and background checks
General induction
HR & Payroll
No stress - No surprises
VALUE: $2500 p.a.
Full payroll services, wages and leave costs
Public holidays
Superannuation and Workers Compensation Insurance
Tuition fees & PPE and uniforms
Management of training, training contract and training plan
Highest quality training
Organising on or off the job training
DGT is the legal employer
Rotation or relocation of apprentices
WorkCover excess and claim management (on DGT policy)
We handle the recruitment and termination processes
Short and long term placements
Worksite visits and support
Assistance with managing safety obligations
Performance management and issue resolution
Assistance with planning your future workforce needs
DGT training at discounted rates
Training Contract Management
DGT - the training and employment experts
VALUE: $1000 p.a
Risk Mitigation
We take your risk away
VALUE: $2500 p.a.
Support
Simple, easy, convenient and hassle free
VALUE: $2000 p.a.
What are the costs involved?
Wages & on-costs according to industrial awards.
A service fee tailored to your individual business needs as an hourly rate or annual fee.
Host employer rewards apply to further reduce costs depending on eligibility
Up to a total value of $11,000!


What is the difference between apprentices and trainees?
Apprenticeships are 3-4 years in duration and generally apply to traditional trades such as metal fabrication, mechanical, chefs, automotive, electrical and construction. When an apprenticeship is completed successfully, an apprentice becomes a qualified tradesperson.

Traineeships are a formal training arrangement that are generally 1-2 years in duration and apply to a variety of roles including business, office administration, hospitality, horticulture and more. Traineeships are available for people of all ages and when a traineeship is completed successfully, the trainee receives a Certificate 2, 3 or 4 in their chosen vocation.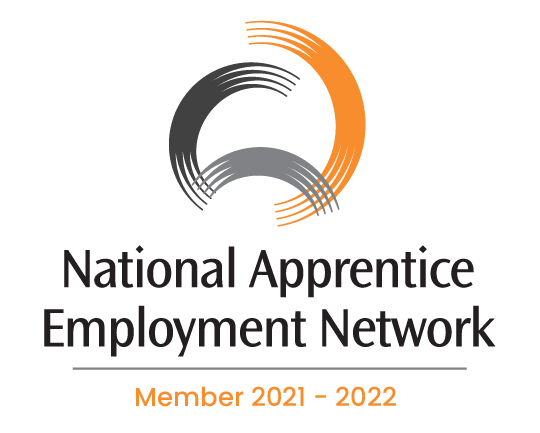 We are proud member of the National Apprentice Employment Network!
The National Apprentice Employment Network (NAEN) is Australia's largest employer network of Apprentices and Trainees. Across metropolitan, rural, regional and remote Australia, the network employs some 25,000 Apprentices and Trainees in a diverse range of industries.


As a NAEN member, DGT works with you to connect Apprentices and Trainees with your business, filling your position vacancies and allowing the Apprentices and Trainees to complete their training.
Register your interest to host an apprentice below or contact us on 1300 010 185