Becoming an Apprentice or Trainee
Kickstart your career and become an Apprentice or Trainee with DGT!
Becoming an Apprentice or Trainee with DGT Employment and Training is a proven way to kick start your career, earn a wage and complete a nationally recognised qualification.

Since 1987, we've supported over 12,000 people to successfully complete their Apprenticeship or Traineeship and go on to have successful careers and run profitable businesses as carpenters, civil construction plumbers, tilers, mechanics, engineers, business administration and many others.
As a DGT Apprentice or Trainee, you get access to great support including tools, PPE, and a range of other services to make sure you successfully complete your qualification and make the most of your Apprenticeship or Traineeship.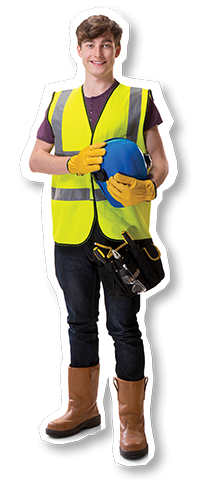 Have some questions?
Here's a quick guide to help you when starting out as an apprentice or trainee.

How do apprenticeships and traineeships work?
Apprenticeships and traineeships are about earning and learning.
You complete on and off-the-job training, gain a Certificate II, III or IV qualification and earn a wage at the same time.
What is the difference between apprenticeships and traineeships?
Apprenticeships take 3-4 years to complete and generally apply to traditional trades including metal fabrication, carpentry, plumbing, chefs, automotive technicians, electricians and civil construction. When you successfully complete an apprenticeship, you become a qualified tradesperson.
Traineeships take 1-2 years to complete and include business, office administration, hospitality, horticulture and more. Traineeships are available for people of all ages and when a traineeship is completed successfully, the trainee receives a Certificate 2, 3 or 4 in their chosen vocation.
How much will I earn?
Every apprenticeship or traineeship is different, but hourly rates range from around $10 per hour to up to $30 per hour as a third or fourth year apprentice.
We also provide you with relevant PPE, tools and other support including assistance with managing training, support on the job, licenses and tickets and other courses and programs that can help you once you complete, view our short courses.
What types of apprenticeships and traineeships does DGT offer?
To find out the current apprenticeships and traineeships available, check out our jobs board.
We also accept resumes and expressions of interest from people who want to be an apprentice or trainee. If you're motivated, prepared to work hard and be the best you can you be, we'll help you find an apprenticeship or traineeship that sets you on the path to you chosen career!
The types of apprenticeships and traineeships we offer are
We offer three types of apprenticeships and traineeships, these are:
School-based: As a part of your high school studies
Full-time: 36-38 hours a week
Part-time: No less than 15 hours a week
Types of Apprenticeships:
Carpentry
Plumbing
Automotive
Engineering
Metal fabrication
Commercial Cookery
Civil Construction – Plant Operators
and hundreds more
Types of Traineeships:
Business and Business Administration
Hospitality
Health
Community services
IT
Horticulture
Warehouse and logistics
and hundreds more
Want more information on the types
of apprenticeships and traineeships?

For tools & resources to assist students researching apprenticeship & traineeship career pathways, check out the Australian Apprenticeships Pathways website here.
Not sure what you want to do?
That's ok, we're here to help!
Send us an email or phone us on 1300 010 185 to talk to one of our consultants.
We'll help you put a career plan together and work out the next
step in your career!