Trent on top of his game!
News Article from Monday 12th June 2017
Trent worked hard and pulled a 'Bradbury' last weekend in the 2nd round of the Southern QLD Zone Titles facing off against 12 other drivers in his class. This round certainly had it's ups and downs, read on to find out how after some major controversy in the final Trent came out on top!!
Trent started the day off strong qualifying second fastest in the heats and starting out of grid in the number 2 position. He raced consistently on Saturday afternoon for the first 2 heats and finished a strong 2nd in both heats. 
Sunday morning came with the weather forecast not looking good for Trent or anyone else. The team were able to get a good start in the 12 lap pre-final and maintain close contact with the race leader during the race, coming in a gallantly fought 2nd.
With the 14 lap final about to commence the clouds rolled in and it started to drizzle making the track surface extremely slippery and a warning given to the drivers about the track conditions that lay ahead of them. 
The pole position sitter and previous race leader was left out of the race with engine failure which left Trent the chance to possibly win the final and take out the overall second round winner. However, after several minutes waiting and a few roll up laps later the other kart decided to start and was allowed to re-enter the race. Race officials directed him to the rear of the field due to the delay he caused in getting started.
There was a mis-understanding in instructions and the racer headed straight to the front row of the grid and get away to a good lead as the race started! Trent was faced with a minor scrimmage with another kart on the first turn out of the straight and remained focused to get back on track. 
Trent was able to drive his way back from 3rd into 2nd place again and set about catching the leader which he almost did, however he was running out of laps. Trent was able to maintain 2nd place, which was an excellent effort on his behalf. 
With Trent currently in 2nd overall, the race stewards placed a 15 second start penalty on the 1st place driver for not following earlier instructions, putting him back behind Trent after they crossed the finish line!! 
Trent was awarded 1st place in the final with that helping secure 1st place overall for the weekend and the 2nd round of the series.
Trent has now won both the 1st and 2nd rounds of the 4 round series and is hoping to take his good form into this weekends 2nd round of the Winter Carnival here in Toowoomba.
What a winner! Well done Trent!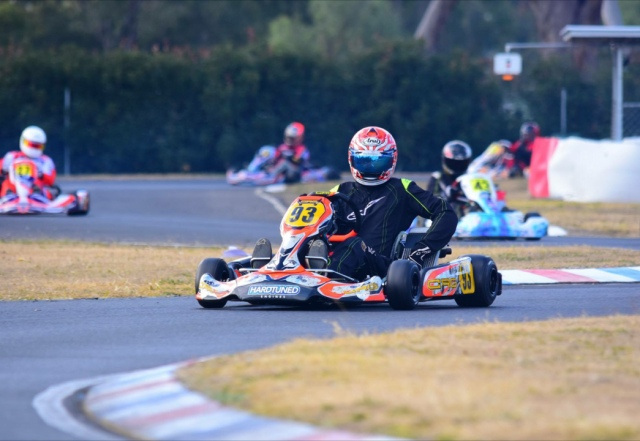 Other Articles