For the Love of Cars
News Article from Friday 11th May 2018
Logan Rayner has been around cars ever since he can remember. Always working on them and helping dad fix them in the shed. So having completed his 4 year apprenticeship as a Light Vehicle Automotive mechanic last Friday was a proud moment and huge life achievement for Logan.
"The best part is learning more about the vehicles and how they work, meaning I can be more independant in fixing my own."
Logan has a self confessed passion for cars. Proud owner of more than a couple of gems including an old holden ute he's fixing up and a Nissan Skyline R31 '98 model which he enjoys firing up at local Friday night drift sessions. 
Logan scored himself his apprenticeship and was employed with DGT for the whole term of his apprenticeship. Originally hosted by Armstrong Nissan for 3 years, he completed his final year with Russell and the team from Hughes Car Sales, having this to say about his experience;
"Its been awesome working with Russell and his team, he's always looking out for you and is definitely the best boss I've worked with so far".  
He was recruited and employed by DGT for the whole term of his apprenticeship. He was originally hosted by Armstrong Nissan for 3 years and completed his final year with Russell.
Established in 1975 the Hughes family and Hughes Car Sales have been long serving members of the automotive industry in Toowoomba and are proud to be part of assisting apprentices finish their trades. 
"I like to see them fulfil their trade, to be able to watch young people learning from someone like Adam (our workshop foreman) and knowing I am able to assist in the process, its wonderful." Russell Hughes said.
Russell came to DGT through DGT's Employment Consultant Mal Harders "Mals got a great reputation in town for a start and I knew that, he was perfect, did everything I wanted him to do, there was no pressure, he was great to deal with and knew exactly what our wants and needs were. He helped us target someone who was in their 2nd or 3rd year, with a bit of experience and Logan fitted the bill." 
"I'm very proud of our work environment here and we all work as a team, everyone understands there is no I in team, Logan blended right in." Mr Hughes continued.  
When asked whether he would recommend DGT for any other local businesses Russell said
"Highly recommend choosing DGT as Mal and the team take a lot of the stress and worry out of it, giving you more time to concentrate on your business to keep the wheels in motion so to speak."
So what's next for Logan? Logan is considering staying with Hughes Used Cars or maybe even a job driving the big toys in the mining industry for a change of scenery, a bit of fun and of course the big bucks. He's out to make the big bucks to continue his passion for buying and fixing up cars. 
His advice for anyone considering an apprenticeship?
"You have got to have a passion for what you're doing, if you don't it can get frustrating, its at those times that your passion get's you through."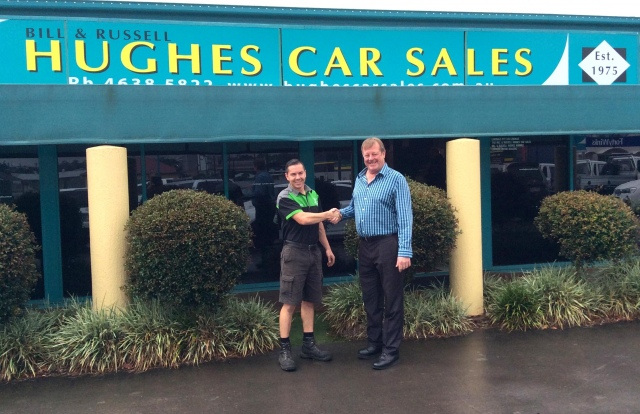 Other Articles