First Round of Southern Zone Challenge
News Article from Monday 11th April 2016
Last weekend was full of ups and downs for our Trent as he competed in the first round of the Southern Zone Challenge at Warwick's Sandy Creek raceway.
Qualifying 3rd fastest after a short practice session Saturday morning it was then time to race!
Saturday afternoon saw him complete Heat 1 and he had a great start out of grid 3 and drove into 2nd on the second lap.
Trent gained an opportunity to pass the race leader on the grid corner which put him into the lead for the remaining 8 laps. He kept the race lead for the remainder of the race and recorded a formidable victory to take the chequered flag for the first heat.
Sunday morning saw the start of heat 2 and the 12 lap pre final. He drove well to finish 3rd in both heats however had slight concerns regarding the wear of his tyres.
The 14 lap final saw him start from grid 3 yet again and he drove consistently to maintain a safe 3rd until the final 400 metres of the final when the kart in second place snapped a chain on the second last corner  which saw him roll to the infield which allowed our Trent to "do a Bradbury" and drive into second place for the chequered flag!
As the second round of the Southern Zone Challenge nears, finalisation of results and points are still yet to be confirmed by the officials and timing systems from last weekend's contentious heats!
A challenging weekend on the track with worn tyres, however Trent is in great spirits and happy with the overall result for the first round of the Southern Zone Challenge. He lines up again for the 2nd round on the 21st and 22nd of May.
That round is being hosted right here in Toowoomba, meaning Trent will be on his home track giving him a great big advantage.

Stay tuned for more results!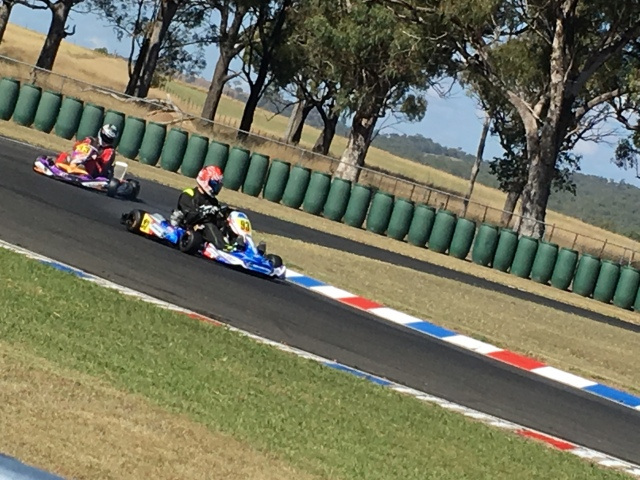 Other Articles